Kilometers to Inches
1 Kilometer is equal to 39370.1 Inches. To convert a Kilometer measurement to a Inch measurement, multiply the number of Kilometers by 39370.1 and change the units to Inches.
Convert Km to In Calculator: Our Kilometer (km) to Inches (in) calculator, is a fast, unit conversion calculator which helps you convert one unit to another in less than a few seconds. It's a very
handy and an easy to use tool offered by our website areavolumecalculator.com. You can perform many calculations and conversions on the go.
It's very easy to use. All you need to do is enter the value of kilometer in the input field and click on convert, you will obtain the output in Inches within a matter of seconds. Not only this, this tool also offers a detailed explanation like definition, formula, and examples for the conversion of units, for a better understanding.
What is Kilometer?
Kilometer is a metric unit of measurement of length. It is about 62/100 of a mile. The SI unit symbol of kilometer is km.
What is an Inch?
An inch is a unit of measurement of length in the metric system. Since 1959, the inch has been officially defined as 2.54 cm exactly. It is represented by In or by (").
How to Convert Kilometer to Inches?
In order to perform any conversion we first need to know the conversion ratio of the unit in which we want our output. So--, let's take a closer look at the conversion formula to help you understand the use of the conversion calculator.
Formula to convert Km to In
One kilometer(km) has 39370.0787 inches
To convert km to inches, multiply the given km value by 39370.0787 i.e,
in = km × 39370.0787
Let's take a few examples to see how we can apply the formula given above for the conversion of kilometer (km) measurement to inches (in) measurement -
Example: Convert 1.5 kilometer to Inches.
Solution: As we know the formula to convert km to in
i.e, in = km × 39370.0787
The given value to be converted is 1.5 km into inches. First, put the value in the above formula
in = km × 39370.0787
in = 1.5 × 39370.0787
in = 59,055.11815
Therefore, 1.5 kilometers =59,055.1181 in
Kilometer to Inches Conversion Table
| | |
| --- | --- |
| 1 Km | 39,370.0787 in |
| 2 Km | 78,740.1574 in |
| 3 Km | 118,110.236 in |
| 4 Km | 157,480.315 in |
| 5 Km | 196,850.394 in |
| 6 Km | 236,220.472 in |
| 7 Km | 275,590.551 in |
| 8 Km | 314,960.63 in |
| 9 Km | 354,330.708 in |
| 10 Km | 393,700.787 in |
How to Use Kilometer to Inches Calculator
Here are some easy steps to know how to use the kilometer to inches calculator.
Firstly, enter the kilometer value that you want to convert, in the input area provided.
Select the output metric unit in which you want to convert the given value.
After that, click on the convert button.
Now, you will get the converted output within a span of a few seconds.
FAQs on Kilometer to Inches
1 . How to convert Kilometer to Inch?
You can convert a kilometer measurement into inch measurement with the simple formula i.e,
in = km × 39370.0787
2 . How many Inches are there in a kilometer?
There are 39370.0787 inches in a kilometer
( 1 km = 39370.0787 in).
---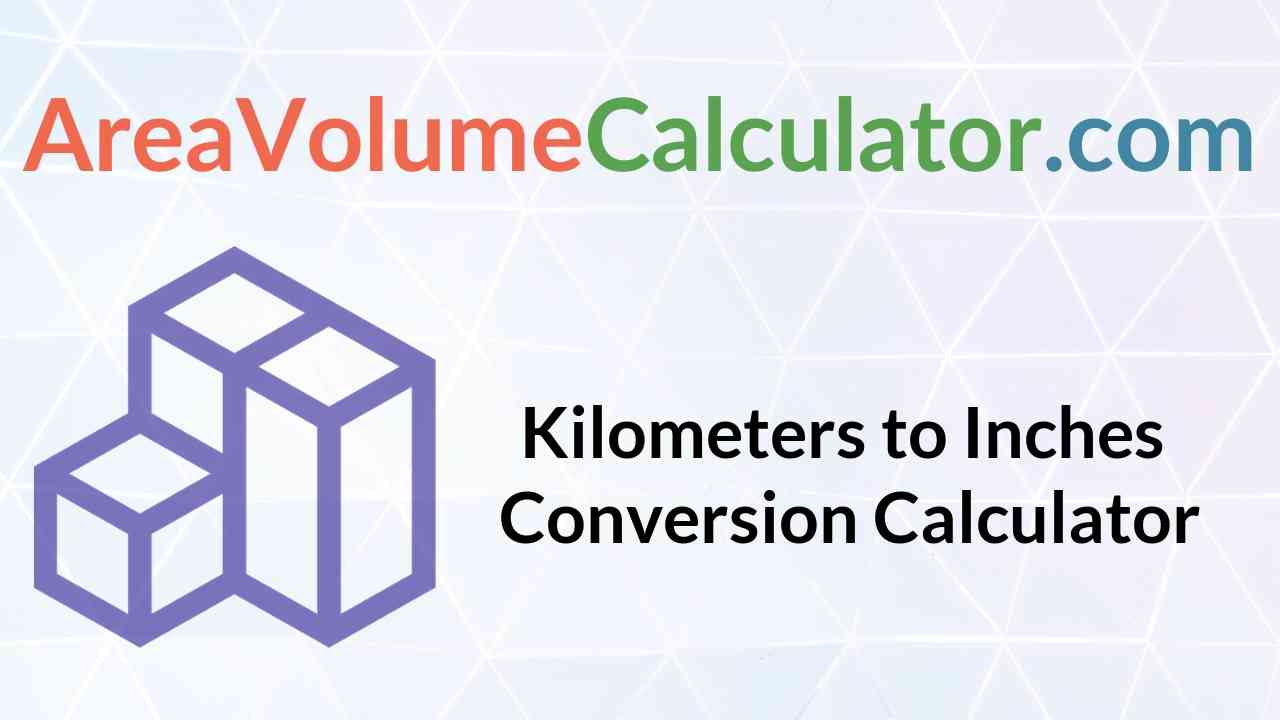 More Examples
(some results rounded)
| km | in |
| --- | --- |
| 0.0001 | 3.94 x 10+00 |
| 0.0006 | 2.36 x 10+01 |
| 0.001 | 39.370079 |
| 0.006 | 236.22047 |
| 0.01 | 393.7008 |
| 0.06 | 2362.205 |
| 0.1 | 3937.01 |
| 0.6 | 2362.205 |
| 1 | 39370.1 |
| 2 | 78740.2 |
| 3 | 118110.3 |
| 4 | 157480.4 |
| 5 | 196850.5 |
| 6 | 236220.6 |
| 7 | 275590.7 |
| 8 | 314960.8 |
| 9 | 354330.9 |
| 10 | 393701 |
| 11 | 433071.1 |
| 12 | 472441.2 |
| 13 | 511811.3 |
| 14 | 551181.4 |
| 15 | 590551.5 |
| 16 | 629921.6 |
| 17 | 669291.7 |
| 18 | 708661.8 |
| 19 | 748031.9 |
| 20 | 787402 |
| 21 | 826772.1 |
| 22 | 866142.2 |
| 23 | 905512.3 |
| 24 | 944882.4 |
| 25 | 984252.5 |
| 26 | 1023622.6 |
| 27 | 1062992.7 |
| 28 | 1102362.8 |
| 29 | 1141732.9 |
| 30 | 1181103 |
| 31 | 1220473.1 |
| 32 | 1259843.2 |
| 33 | 1299213.3 |
| 34 | 1338583.4 |
| 35 | 1377953.5 |
| 36 | 1417323.6 |
| 37 | 1456693.7 |
| 38 | 1496063.8 |
| 39 | 1535433.9 |
| 40 | 1574804 |
| 41 | 1614174.1 |
| 42 | 1653544.2 |
| 43 | 1692914.3 |
| 44 | 1732284.4 |
| 45 | 1771654.5 |
| 46 | 1811024.6 |
| 47 | 1850394.7 |
| 48 | 1889764.8 |
| 49 | 1929134.9 |
| 50 | 1968505 |
| 51 | 2007875.1 |
| 52 | 2047245.2 |
| 53 | 2086615.3 |
| 54 | 2125985.4 |
| 55 | 2165355.5 |
| 56 | 2204725.6 |
| 57 | 2244095.7 |
| 58 | 2283465.8 |
| 59 | 2322835.9 |
| 60 | 2362206 |
| 61 | 2401576.1 |
| 62 | 2440946.2 |
| 63 | 2480316.3 |
| 64 | 2519686.4 |
| 65 | 2559056.5 |
| 66 | 2598426.6 |
| 67 | 2637796.7 |
| 68 | 2677166.8 |
| 69 | 2716536.9 |
| 70 | 2755907 |
| 71 | 2795277.1 |
| 72 | 2834647.2 |
| 73 | 2874017.3 |
| 74 | 2913387.4 |
| 75 | 2952757.5 |
| 76 | 2992127.6 |
| 77 | 3031497.7 |
| 78 | 3070867.8 |
| 79 | 3110237.9 |
| 80 | 3149608 |
| 81 | 3188978.1 |
| 82 | 3228348.2 |
| 83 | 3267718.3 |
| 84 | 3307088.4 |
| 85 | 3346458.5 |
| 86 | 3385828.6 |
| 87 | 3425198.7 |
| 88 | 3464568.8 |
| 89 | 3503938.9 |
| 90 | 3543309 |
| 91 | 3582679.1 |
| 92 | 3622049.2 |
| 93 | 3661419.3 |
| 94 | 3700789.4 |
| 95 | 3740159.5 |
| 96 | 3779529.6 |
| 97 | 3818899.7 |
| 98 | 3858269.8 |
| 99 | 3897639.9 |
| 100 | 3937010 |
| 101 | 3976380.1 |
| 102 | 4015750.2 |
| 103 | 4055120.3 |
| 104 | 4094490.4 |
| 105 | 4133860.5 |
| 106 | 4173230.6 |
| 107 | 4212600.7 |
| 108 | 4251970.8 |
| 109 | 4291340.9 |
| 110 | 4330711 |
| 111 | 4370081.1 |
| 112 | 4409451.2 |
| 113 | 4448821.3 |
| 114 | 4488191.4 |
| 115 | 4527561.5 |
| 116 | 4566931.6 |
| 117 | 4606301.7 |
| 118 | 4645671.8 |
| 119 | 4685041.9 |
| 120 | 4724412 |
| 121 | 4763782.1 |
| 122 | 4803152.2 |
| 123 | 4842522.3 |
| 124 | 4881892.4 |
| 125 | 4921262.5 |
| 126 | 4960632.6 |
| 127 | 5000002.7 |
| 128 | 5039372.8 |
| 129 | 5078742.9 |
| 130 | 5118113 |
| 131 | 5157483.1 |
| 132 | 5196853.2 |
| 133 | 5236223.3 |
| 134 | 5275593.4 |
| 135 | 5314963.5 |
| 136 | 5354333.6 |
| 137 | 5393703.7 |
| 138 | 5433073.8 |
| 139 | 5472443.9 |
| 140 | 5511814 |
| 141 | 5551184.1 |
| 142 | 5590554.2 |
| 143 | 5629924.3 |
| 144 | 5669294.4 |
| 145 | 5708664.5 |
| 146 | 5748034.6 |
| 147 | 5787404.7 |
| 148 | 5826774.8 |
| 149 | 5866144.9 |
| 150 | 5905515 |
| 151 | 5944885.1 |
| 152 | 5984255.2 |
| 153 | 6023625.3 |
| 154 | 6062995.4 |
| 155 | 6102365.5 |
| 156 | 6141735.6 |
| 157 | 6181105.7 |
| 158 | 6220475.8 |
| 159 | 6259845.9 |
| 160 | 6299216 |
| 161 | 6338586.1 |
| 162 | 6377956.2 |
| 163 | 6417326.3 |
| 164 | 6456696.4 |
| 165 | 6496066.5 |
| 166 | 6535436.6 |
| 167 | 6574806.7 |
| 168 | 6614176.8 |
| 169 | 6653546.9 |
| 170 | 6692917 |
| 171 | 6732287.1 |
| 172 | 6771657.2 |
| 173 | 6811027.3 |
| 174 | 6850397.4 |
| 175 | 6889767.5 |
| 176 | 6929137.6 |
| 177 | 6968507.7 |
| 178 | 7007877.8 |
| 179 | 7047247.9 |
| 180 | 7086618 |
| 181 | 7125988.1 |
| 182 | 7165358.2 |
| 183 | 7204728.3 |
| 184 | 7244098.4 |
| 185 | 7283468.5 |
| 186 | 7322838.6 |
| 187 | 7362208.7 |
| 188 | 7401578.8 |
| 189 | 7440948.9 |
| 190 | 7480319 |
| 191 | 7519689.1 |
| 192 | 7559059.2 |
| 193 | 7598429.3 |
| 194 | 7637799.4 |
| 195 | 7677169.5 |
| 196 | 7716539.6 |
| 197 | 7755909.7 |
| 198 | 7795279.8 |
| 199 | 7834649.9 |
| 200 | 7874000 |
| 202 | 7952740.2 |
| 204 | 8031480.4 |
| 206 | 8110220.6 |
| 208 | 8188960.8 |
| 210 | 8267701 |
| 212 | 8346441.2 |
| 214 | 8425181.4 |
| 216 | 8503921.6 |
| km | in |
| --- | --- |
| 218 | 8582661.8 |
| 220 | 8661402 |
| 222 | 8740142.2 |
| 224 | 8818882.4 |
| 226 | 8897622.6 |
| 228 | 8976362.8 |
| 230 | 9055103 |
| 232 | 9133843.2 |
| 234 | 9212583.4 |
| 236 | 9291323.6 |
| 238 | 9370063.8 |
| 240 | 9448804 |
| 242 | 9527544.2 |
| 244 | 9606284.4 |
| 246 | 9685024.6 |
| 248 | 9763764.8 |
| 250 | 9842505 |
| 252 | 9921245.2 |
| 254 | 9999985.4 |
| 256 | 1.01 x 10+07 |
| 258 | 1.02 x 10+07 |
| 260 | 1.02 x 10+07 |
| 262 | 1.03 x 10+07 |
| 264 | 1.04 x 10+07 |
| 266 | 1.05 x 10+07 |
| 268 | 1.06 x 10+07 |
| 270 | 1.06 x 10+07 |
| 272 | 1.07 x 10+07 |
| 274 | 1.08 x 10+07 |
| 276 | 1.09 x 10+07 |
| 278 | 1.09 x 10+07 |
| 280 | 1.10 x 10+07 |
| 282 | 1.11 x 10+07 |
| 284 | 1.12 x 10+07 |
| 286 | 1.13 x 10+07 |
| 288 | 1.13 x 10+07 |
| 290 | 1.14 x 10+07 |
| 292 | 1.15 x 10+07 |
| 294 | 1.16 x 10+07 |
| 296 | 1.17 x 10+07 |
| 298 | 1.17 x 10+07 |
| 300 | 1.18 x 10+07 |
| 302 | 1.19 x 10+07 |
| 304 | 1.20 x 10+07 |
| 306 | 1.20 x 10+07 |
| 308 | 1.21 x 10+07 |
| 310 | 1.22 x 10+07 |
| 312 | 1.23 x 10+07 |
| 314 | 1.24 x 10+07 |
| 316 | 1.24 x 10+07 |
| 318 | 1.25 x 10+07 |
| 320 | 1.26 x 10+07 |
| 322 | 1.27 x 10+07 |
| 324 | 1.28 x 10+07 |
| 326 | 1.28 x 10+07 |
| 328 | 1.29 x 10+07 |
| 330 | 1.30 x 10+07 |
| 332 | 1.31 x 10+07 |
| 334 | 1.31 x 10+07 |
| 336 | 1.32 x 10+07 |
| 338 | 1.33 x 10+07 |
| 340 | 1.34 x 10+07 |
| 342 | 1.35 x 10+07 |
| 344 | 1.35 x 10+07 |
| 346 | 1.36 x 10+07 |
| 348 | 1.37 x 10+07 |
| 350 | 1.38 x 10+07 |
| 352 | 1.39 x 10+07 |
| 354 | 1.39 x 10+07 |
| 356 | 1.40 x 10+07 |
| 358 | 1.41 x 10+07 |
| 360 | 1.42 x 10+07 |
| 362 | 1.43 x 10+07 |
| 364 | 1.43 x 10+07 |
| 366 | 1.44 x 10+07 |
| 368 | 1.45 x 10+07 |
| 370 | 1.46 x 10+07 |
| 372 | 1.46 x 10+07 |
| 374 | 1.47 x 10+07 |
| 376 | 1.48 x 10+07 |
| 378 | 1.49 x 10+07 |
| 380 | 1.50 x 10+07 |
| 382 | 1.50 x 10+07 |
| 384 | 1.51 x 10+07 |
| 386 | 1.52 x 10+07 |
| 388 | 1.53 x 10+07 |
| 390 | 1.54 x 10+07 |
| 392 | 1.54 x 10+07 |
| 394 | 1.55 x 10+07 |
| 396 | 1.56 x 10+07 |
| 398 | 1.57 x 10+07 |
| 400 | 1.57 x 10+07 |
| 402 | 1.58 x 10+07 |
| 404 | 1.59 x 10+07 |
| 406 | 1.60 x 10+07 |
| 408 | 1.61 x 10+07 |
| 410 | 1.61 x 10+07 |
| 412 | 1.62 x 10+07 |
| 414 | 1.63 x 10+07 |
| 416 | 1.64 x 10+07 |
| 418 | 1.65 x 10+07 |
| 420 | 1.65 x 10+07 |
| 422 | 1.66 x 10+07 |
| 424 | 1.67 x 10+07 |
| 426 | 1.68 x 10+07 |
| 428 | 1.69 x 10+07 |
| 430 | 1.69 x 10+07 |
| 432 | 1.70 x 10+07 |
| 434 | 1.71 x 10+07 |
| 436 | 1.72 x 10+07 |
| 438 | 1.72 x 10+07 |
| 440 | 1.73 x 10+07 |
| 442 | 1.74 x 10+07 |
| 444 | 1.75 x 10+07 |
| 446 | 1.76 x 10+07 |
| 448 | 1.76 x 10+07 |
| 450 | 1.77 x 10+07 |
| 452 | 1.78 x 10+07 |
| 454 | 1.79 x 10+07 |
| 456 | 1.80 x 10+07 |
| 458 | 1.80 x 10+07 |
| 460 | 1.81 x 10+07 |
| 462 | 1.82 x 10+07 |
| 464 | 1.83 x 10+07 |
| 466 | 1.83 x 10+07 |
| 468 | 1.84 x 10+07 |
| 470 | 1.85 x 10+07 |
| 472 | 1.86 x 10+07 |
| 474 | 1.87 x 10+07 |
| 476 | 1.87 x 10+07 |
| 478 | 1.88 x 10+07 |
| 480 | 1.89 x 10+07 |
| 482 | 1.90 x 10+07 |
| 484 | 1.91 x 10+07 |
| 486 | 1.91 x 10+07 |
| 488 | 1.92 x 10+07 |
| 490 | 1.93 x 10+07 |
| 492 | 1.94 x 10+07 |
| 494 | 1.94 x 10+07 |
| 496 | 1.95 x 10+07 |
| 498 | 1.96 x 10+07 |
| 500 | 1.97 x 10+07 |
| 505 | 1.99 x 10+07 |
| 510 | 2.01 x 10+07 |
| 515 | 2.03 x 10+07 |
| 520 | 2.05 x 10+07 |
| 525 | 2.07 x 10+07 |
| 530 | 2.09 x 10+07 |
| 535 | 2.11 x 10+07 |
| 540 | 2.13 x 10+07 |
| 545 | 2.15 x 10+07 |
| 550 | 2.17 x 10+07 |
| 555 | 2.19 x 10+07 |
| 560 | 2.21 x 10+07 |
| 565 | 2.22 x 10+07 |
| 570 | 2.24 x 10+07 |
| 575 | 2.26 x 10+07 |
| 580 | 2.28 x 10+07 |
| 585 | 2.30 x 10+07 |
| 590 | 2.32 x 10+07 |
| 595 | 2.34 x 10+07 |
| 600 | 2.36 x 10+07 |
| 605 | 2.38 x 10+07 |
| 610 | 2.40 x 10+07 |
| 615 | 2.42 x 10+07 |
| 620 | 2.44 x 10+07 |
| 625 | 2.46 x 10+07 |
| 630 | 2.48 x 10+07 |
| 635 | 2.50 x 10+07 |
| 640 | 2.52 x 10+07 |
| 645 | 2.54 x 10+07 |
| 650 | 2.56 x 10+07 |
| 655 | 2.58 x 10+07 |
| 660 | 2.60 x 10+07 |
| 665 | 2.62 x 10+07 |
| 670 | 2.64 x 10+07 |
| 675 | 2.66 x 10+07 |
| 680 | 2.68 x 10+07 |
| 685 | 2.70 x 10+07 |
| 690 | 2.72 x 10+07 |
| 695 | 2.74 x 10+07 |
| 700 | 2.76 x 10+07 |
| 705 | 2.78 x 10+07 |
| 710 | 2.80 x 10+07 |
| 715 | 2.82 x 10+07 |
| 720 | 2.84 x 10+07 |
| 725 | 2.85 x 10+07 |
| 730 | 2.87 x 10+07 |
| 735 | 2.89 x 10+07 |
| 740 | 2.91 x 10+07 |
| 745 | 2.93 x 10+07 |
| 750 | 2.95 x 10+07 |
| 755 | 2.97 x 10+07 |
| 760 | 2.99 x 10+07 |
| 765 | 3.01 x 10+07 |
| 770 | 3.03 x 10+07 |
| 775 | 3.05 x 10+07 |
| 780 | 3.07 x 10+07 |
| 785 | 3.09 x 10+07 |
| 790 | 3.11 x 10+07 |
| 795 | 3.13 x 10+07 |
| 800 | 3.15 x 10+07 |
| 805 | 3.17 x 10+07 |
| 810 | 3.19 x 10+07 |
| 815 | 3.21 x 10+07 |
| 820 | 3.23 x 10+07 |
| 825 | 3.25 x 10+07 |
| 830 | 3.27 x 10+07 |
| 835 | 3.29 x 10+07 |
| 840 | 3.31 x 10+07 |
| 845 | 3.33 x 10+07 |
| 850 | 3.35 x 10+07 |
| 855 | 3.37 x 10+07 |
| 860 | 3.39 x 10+07 |
| 865 | 3.41 x 10+07 |
| 870 | 3.43 x 10+07 |